SPECTRACORP PROVIDES PROFESSIONAL HEALTHCARE AND MEDICAL LANGUAGE  INTERPRETATION SERVICES THROUGH ITS VETTED LARGE HIPAA COMPLIANT OPI AND VRI PARTNER NETWORK

We currently service over 400 US hospitals and have saved them thousands of dollars in Over-the-Phone (OPI), Video Remote Interpreting (VRI), and American Sign Language (ASL) medical interpreting services.
We provide healthcare language interpreting services for Telehealth, Urgent Care and Emergency, Nursing Homes, Clinics, Community Health Centers, Rehabilitation Center, Health Insurance Companies and Centers for Medicare & Medicaid Services, and more.
Using a simple process, we can enhance your healthcare services, while reducing costs, so your facilities can access vetted and qualified interpreters, strengthen patient engagements and improve care.

SIMPLE PROCESS

BETTER RATES

QUICK DEPLOYMENT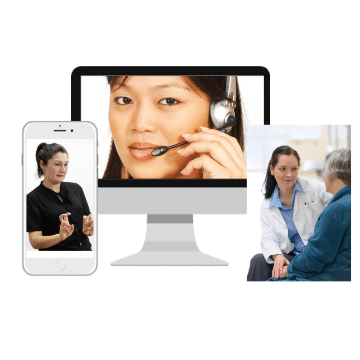 We Simplify Multi-Language OPI Healthcare Intepretation Services with Device Integration.
Our VRI Services are Easy to Use, Reliable, and Secure.
Through our OPI and VRI partner network, we can assure that every patient in your facility has available the language modality best suited for them.

Using a Simple Process, SpectraCorp Provides:
Qualfied and Certified OPI and VRI Language Medical Intepreters at Competitive Rates

Qualified and RID Certified ASL and Spanish Interpreters at Competitive Rates

Language Proficiency Assessments

Document Translation Services
THROUGH OUR HIGHLY QUALIFIED NETWORK, WE CAN CONNECT YOUR PATIENTS AND STAFF WITH TELEPHONE AND VIDEO  HEALTHCARE INTERPRETERS IN A MATTER OF SECONDS

OPI Healthcare Interpretation Services
Available 24×7, our OPI interpreters are highly trained and exclusively focused on medical and healthcare terminology.
This includes medical treatments, anatomy, physiology, diagnostics, and relaying vital information between healthcare workers and patients by phone or video.
Supported in over 200 languages, our OPI interpreter services are fast and easy to use.
We simplify multi-language OPI with device intergration. Our healthcare language services leverage every day technology like tables, smartphones, and laptops to ensure easy integration into your existing processes.
VRI Healthcare Interpretation Services
We also recognize the importance of both interpretation and technology quality. Our VRI interpreters are highly qualified, experienced video interpreters and extensively trained in medical terminology.
With VRI Access to 40+ languages, SpectraCorp's VRI services offer the face-to-face experience without the cost of an onsite healthcare interpreter.
ASL and Spanish Healthcare Interpretation Services
All ASL and Spanish Interpreters are RID Certified.
Our partners are compliant with HIPAA, Title VI, Section 1557 of ACA, CMS and Accreditation firm standards, requirements.

Extensively Trained in Medical Terminology

24/7 Multi-Cultural Qualified Medical Interpreters

OPI Available in Over 200 Languages
VRI 20+ Languages
RID Certified ASL Interpreters
SPECTRACORP'S MEDICAL LANGUAGE INTEPRETATION SPECIALIST SERVICES

SpectraCorp's mission it to help healthcare facilities provide the best possible care for their patients by eliminating communication barriers, while also offering cost savings in the OPI, VRI, and ASL medical interpretation arena to help improve health outcomes.
THROUGH OUR DEDICATED HANDS-ON CUSTOMER SERVICE, WE SERVE AS YOUR SINGLE POINT OF CONTACT, REDUCING RED TAPE AND SERVICE DEPLOYMENT TIME.
SpectraCorp's can also create a customized medical language interpretation service approach to best meet your needs.

SINGLE POINT OF CONTACT

BETTER RATES & EASY IMPLEMENTATION

DEDICATED CUSTOMER SERVICE
Let the experts at SpectraCorp help meet your critical business and regulatory demands with our full suite of medical terminology healthcare interpretation services.
"We appreciate the service you provide and have been very happy with it!"
"I'm so excited to get this started, and I appreciate your assistance in expediting your service."
"Glady's astute questions opened up the conversations about what  SpectraCorp had to offer related to VRI and OPI.  From there she worked with you to get HRMC the best possible rates and save us money."

Gladys partnered with me and researched our account to learn all she could about our needs.  She was always helpful and considerate and followed through on every last detail to assure the best possible implementation and orientation/training for all staff who could attend.  Her responses to my emails and calls were timely and helpful.

I have nothing but confidence in my decision to continue to work with SpectraCorp.  Thank you for your support and for sending such a wonderful representative to enhance our language services.  It was truly a joy to meet Gladys and share a little South Dakota snow and cold with her while she was here!"
"Thank you for working with LRH to get us up and running with your VRI service – everyone loves it and appreciates the ease."
"I would like for you to know – we do appreciate you and your consistent efforts and reports greatly  – as always!!!!!"
CONTACT US TODAY!

For the fastest response, please fill out the form below:

Gladys Calderon: Director of Language Access
Direct: 800.375.7945 Ext. 341

languageaccess@spectracorp.com

SpectraCorp Headquarters
8131 Lyndon B. Johnson Fwy,
Suite 360
Dallas, TX 75251