SpectraCorp's Video Remote Interpreting (VRI) partner solution provides on-demand medical communication assistance for limited English proficient, deaf, and hard-of-hearing individuals.

It's the perfect fit for healthcare facilities that need quick access to remote interpreters with a visual component.
Utilizing a computer, tablet, or smartphone, you can connect to our network of qualified ASL and Spanish medical interpreters over a secure HIPPA compliant connection in a matter of seconds, while reducing costs and improving patient relationships.
How do we do it? Spectracorp has partnered with the top HIPAA compliant VRI professional interpretation service companies to provide better rates and quick deployment using a simple process.

SIMPLE PROCESS

BETTER RATES

QUICK DEPLOYMENT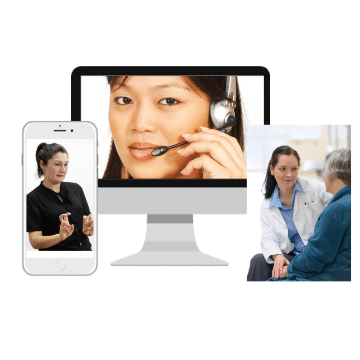 Our ASL VRI Services are Easy to Use, Reliable, and Secure Across Multiple Platforms.
Connect to RID-certified sign language interpreters trained in medical terminology through any device in a matter of seconds.

Using a Simple Process, SpectraCorp Provides:
ASL interpreters extensively trained and extremely knowledgeable in medical terminology

RID Certified ASL and Spanish Interpreters

When applicable, national certification endorsed by NCIHC or NCCMI preferred (CHI, CMI)

Continued education, quality assurance training, monitoring and supervision
"We appreciate the service you provide and have been very happy with it!"
"I'm so excited to get this started, and I appreciate your assistance in expediting your service."
"Glady's astute questions opened up the conversations about what  SpectraCorp had to offer related to VRI and OPI.  From there she worked with you to get HRMC the best possible rates and save us money."

Gladys partnered with me and researched our account to learn all she could about our needs.  She was always helpful and considerate and followed through on every last detail to assure the best possible implementation and orientation/training for all staff who could attend.  Her responses to my emails and calls were timely and helpful.

I have nothing but confidence in my decision to continue to work with SpectraCorp.  Thank you for your support and for sending such a wonderful representative to enhance our language services.  It was truly a joy to meet Gladys and share a little South Dakota snow and cold with her while she was here!"
"Thank you for working with LRH to get us up and running with your VRI service – everyone loves it and appreciates the ease."
"I would like for you to know – we do appreciate you and your consistent efforts and reports greatly  – as always!!!!!"
CONTACT US TODAY!

For the fastest response, please fill out the form below:

Gladys Calderon: Director of Language Access
Direct: 800.375.7945 Ext. 341

languageaccess@spectracorp.com

SpectraCorp Headquarters
8131 Lyndon B. Johnson Fwy,
Suite 360
Dallas, TX 75251